It'd been awhile since I'd gone on a distance ride. Most of my Saturdays in September and October were spent with my Scout troop finishing off the Cycling merit badge — two 10-mile rides, two 15s, two 25s, and a 50. As much as I enjoyed seeing them push through and finish, six weeks on washboard-flat rail trails (Minuteman, Providence, and Cape Cod) was frankly enough.
So we went to Connecticut. I've already biked to Rhode Island and New Hampshire but had not yet been to the MA-bordering state to the south. (Yes, there's NY and VT out west, but there's no way I could get out there and back in a day.)
To make it a little interesting, though, I wanted to mix in a drive-by of the place with the longest name in the country: Lake Chargoggagoggmanchauggagoggchaubunagungamaugg in Webster, MA. There's nothing special about the lake besides the name, but it's a pretty special name: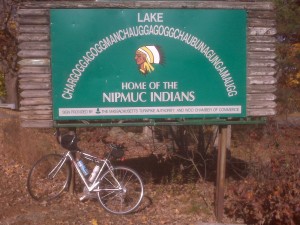 I can't tell you how to pronounce it, but a girl working the counter at Dunkin Donuts rattled it right off. No recording, sorry!
The ride itself was 88 miles roundtrip from Westwood. A friend of mine came along, who had not been on a bike in a couple of months, so he needed to walk up most of the hills & it took a couple hours longer than it should have. Some hard hills, though – 14.7% grade on one of them. Actually going downhill was worse for me – since my crash a couple of months ago I've become gunshy about high speeds especially on corners or where I can't stop easily. So I crawled down the hills, and my buddy crawled up them. But we climbed about a mile of vertical distance, a first for me. Here's the route:
Wow it felt great to get out there for such a long ride. Wish I could've had time to stretch it 12 miles for my second century…