No, no, I'm not in the market for a new set of wheels. But I did try grocery shopping by bike.
To be fair, I had biked to the grocery store before, then loaded the contents of my shopping bags into my panniers. But I figured it was Earth Day, so maybe I could try skipping the plastic bags for once. I was just going to take the pannier off of my rack and into the store, but then I thought I'd be a bit more daring and just wheel the bike into Roche Bros.
I got a few stares from fellow shoppers, but none of the employees said a word. Maybe that's b/c my folding bike isn't much larger than a shopping cart.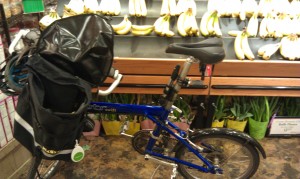 I'm not normally much into the "eco" side of cycling, but it did feel un-wasteful to avoid grabbing a bunch of plastic bags. Here are some bananas in the pannier: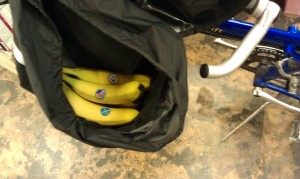 The only downside was that riding home was a bit of a bear since I switched the pannier from the back to the front. With a laptop, the frontloaded bag actually improves steering by making the folder a bit less "twitchy." But with so much weight in the front. steering was difficult/awkward. I'll give it a few days of commuting and then maybe switch it back to the back…hides my hindquarters anyway.