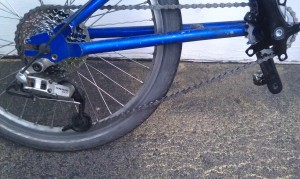 Yes, I did a dumb thing and registered to climb Mt. Washington. Those of you who know me also know why this is a harebrained idea. But a semipro racer friend of mine said "with the right gearing, anyone can climb anything."
So I took him literally.
Pictured is my folding bike, with 20″ (406) wheels. The chainring is a teensy 24T, while the cassette is an 11-32. That's a low gear with 14 gear-inches, or if you prefer Sheldon Brown's gear ratios, it's 1.0 exactly. This is way beyond 1:1 gearing.
I find that I can do a climb of Great Blue Hill without even getting close to max HR. At the end of the month I'll try Mt. Okemo, Mt. Ascutney in mid-July, and then Mt. Washington the third week of August.
Here's a pic of the full bike: